Tips to Help You Get Back in the Real Estate Market
Learn how to:
Determine your "GREEN LIGHT" date
Understand the basic anatomy of your credit score
Optimize your credit rating and credit history
Manage your bills and living expenses effectively
Ensure that income and assets are effectively documented
Life After A Short Sale
If you are considering or have recently completed a Short Sale you are most likely wondering "how soon can I buy again?" This package is NOT designed to offer you legal advice about the execution and completion of a short sale. Our goal is to help prepare you to purchase your next home.
After a Short Sale you may be dealing with different issues relative to your credit, your income/assets and your future living arrangements. The following documents will aide you in creating a road map that will help lead you back to home ownership.


Determine Your GREEN LIGHT Date
What is you GREEN LIGHT date? This is the earliest date that you are eligible for a new mortgage after your Short Sale Completion Date. Up until this date, you would be declined for a new mortgage based solely on your Short Sale.
Your GREEN LIGHT date does not necessarily equal the date that you will be approved. Eligibility means you can now attempt to get approved for a loan relative to your Short Sale Completion date. Getting approved requires that you position yourself to qualify for a loan. The remainder of this program will help you do just that.


Different Strokes for Different Folks
Each loan type (Conventional, FHA, VA, USDA and Jumbo) has different rules and timeframes when it comes to buying after a Short Sale. Your GREEN LIGHT date will be different depending on your circumstance and what type of financing you intend to use to purchase your next home. The following document entitled "When Can I Buy After A…?" will help you determine your GREEN LIGHT date.


WHEN CAN I BUY A HOME AFTER?
(Short Sale, Bankruptcy and Foreclosure)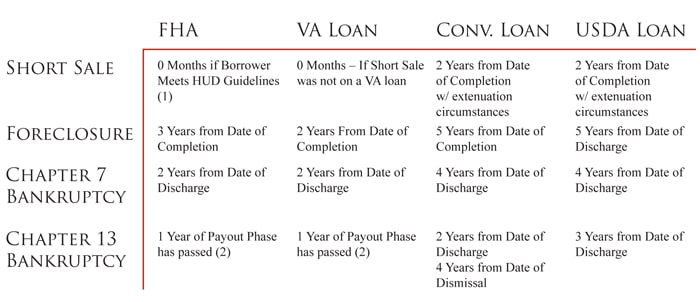 opens IMAGE file
(1) HUD guidelines include but are not limited to the following:
a. Buyer must not have been late on their mortgage or any other debt that reports to the credit bureaus for a period of twelve months prior to their Short Sale Completion Date
b. Buyer must purchase a new home at least 10 miles away from the home that was sold through a Short Sale
(2) Payout history during Ch. 13 Payout phase must be satisfactory
(3) (all) The guidelines contained in this document are subject to change without notice – Document created 08/2010


POST SHORT SALE – STRATEGIES (I)
Tips to Help You Get Pre–Approved Again!
CREDIT/TRADELINE REQUIREMENTS
Make sure that you have at least 3 open trade lines (or accounts) that are currently and actively reporting on your credit report
Credit Cards
Student Loans
Auto Loans
Other Installment Loans
These trade lines must be your OWN accounts and NOT accounts where you were added as an "authorized user."
Make sure that these accounts show on-time payments each and every month until you purchase again.
If you have credit cards try to keep the balances as low as possible while make payments on monthly. Closing the Accounts may lower your score.
ALTERNATIVE CREDIT
(if you won't have 3 trade lines over the next few years)
If you cannot obtain at least 3 trade lines (as mentioned in the above section) you will want to make sure that you will be in a position to have sufficient "alternative credit.""
The first alternative trade line will need to be your Rent History (see next page).
Your additional alternative trade lines can be established from any account that you make monthly payments on monthly such as a utility bill, car insurance, cell phone etc… If you are not presently on enough of these types of accounts try to add yourself to at least two 12 months before your GREEN LIGHT date.


POST SHORT SALE – STRATEGIES (II)
Tips to Help You Get Pre–Approved Again!
FUTURE HOUSING EXPENSE PAYMENTS
Make ALL rent payments with a check that is linked to a personal checking account. The individual that is going to be buying a home in the future must be on the checking account and the checks themselves. DO NOT pay your rent with cash or a money order and DO NOT make your rent payments late. When you re-apply your most recent 12 month's rent history will be critical.
***If you live "rent free" it is imperative that you establish 3 actual trade lines (see previous page) as alternative credit/trade lines will not work without a rent payment history.
INCOME/ASSETS AND EMPLOYMENT
Any gaps in employment during the 2 years preceding your new loan application will need to be accounted for (especially gaps greater than 6 months).
All income being used on the file for qualification purposes will need to be fully documented. If you do not receive a W2 at the end of the year you may want to contact us to discuss this further.
Generally speaking, the more money you have saved in a "liquid" asset account the better. During the time you are waiting to buy again, try to establish a pattern of routinely saving money toward your next home purchase in accounts that have the future buyer on them.
Please contact Jeremy today if you have any questions about short sales – 602.435.2149.