FHA Condo financing has an extra property related step. The HOA/Condo Project a subject condo is in must be eligible for financing by FHA.
Condo FHA Loan Approval
FHA requires the HOA/Condo Project the subject condo is in be eligible for FHA financing. Including a 2019 upgrade, 3 options exist for testing an HOA/Condo Project's FHA loan eligibility.
"FHA Condo Eligibility" means that an HOA/Condo Project meets FHA's Condo rules. In order for FHA financing to be used, these rules must be met.
Commonly, "Warrant-able" or "Non Warrant-able" are titles condos receive with regard to their financing eligibility status. Thankfully, FHA mortgages offer 3 paths to testing an HOA/Condo Projects eligibility for FHA financing. They are:
FHA Single Unit Approvals ("Spot Approvals")
Pre-approved FHA Condos
New Condo Approval from FHA
FHA Spot Condo Approvals
In short, FHA Spot Condo approvals do NOT require the entire HOA/Condo project be FHA approved. As a result, this opens more options for borrowers seeking to finance a condo using an FHA mortgage.
Pre-approved FHA Condo
Previously, this has been the most common measuring stick for FHA condos. However, due to FHA Spot Approvals being introduced more transactions will shift to that option.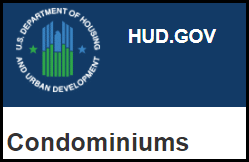 Using the pre-approved FHA Condo option, your lender searches FHA's condo database. Condos listed as "approved" mean your lender may continue forward with their FHA Condo review.
However, on top of confirming the FHA pre-approved condo rating lenders must verify other data before completing the FHA condo approval process.
New FHA Condo Approval
Finally, lenders also may request a new FHA HOA/Condo Project. In other words, for condos NOT listed on FHA's condo database as approved lenders may ask FHA to review them for approval. While the usage of this option should decrease due to the new FHA Condo Spot Approval process, it is still a great option.
Upon your lender's request, FHA reviews the HOA/Condo Project for FHA financing eligibility. This option takes up to 4 to 6 weeks for FHA review.