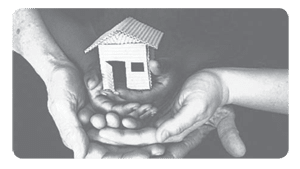 Property condition is a factor in every FHA home loan approval.  FHA property requirements are called "Minimum Property Standards" or "MPS" for short.  FHA also uses 3 standards to evaluate a home's condition:
1. Safety
2. Soundness
3. Security
As a result, FHA appraisers review a home against these 3 standards.  FHA requires that violations be resolved when a home violates any of these 3 standards. While minor cosmetic deficiencies are not grounds for property ineligibility, they may factor into the valuation of the home.
Examples of FHA Required Repairs
Broken Glass
Exposed Wiring
Faulty Door / Window Locks
Defective Paint Surfaces on Homes Built Before 1978
Lack of a Functional Heating Unit
Safety Bars on Exterior Windows
FHA Required Inspections
FHA lenders do not typically require Termite inspections.  However, a pest inspection and related repairs are required when the appraiser notes pest related damage to the home.  FHA may also require a licensed professional inspect the home when the appraiser notes structural damage or faulty mechanical systems (including plumbing, electrical or heating).
FHA's Policy on Appliances
In general, FHA does not require a home to have appliances such as a stove or a refrigerator.  However, there must be a space for a stove.  Generally an FHA appraiser will require the home to have a functional dishwasher if there is a space for a dishwasher.
Arizona FHA Loan Resources
FHA Loan Overview
Escrow Holdback – FHA
FHA 203k
Mortgage Insurance – FHA
Streamline Refinance – FHA
History of the FHA's Property Requirement Policy
FHA created the "As-Is" policy for appraising on January 1, 2006.  Appraisers now evaluate homes differently due to the "As-Is" policy.  As a result, property requirements for FHA loans almost mirror Conventional loans.  Prior to the "As Is" policy FHA property requirements were more stringent.  Consequently, it was tougher for FHA buyers to get offers accepted.  Therefore, this put an FHA buyer at an unfair disadvantage.  Due to a thorough evaluation, HUD/FHA updated their requirements.  In conclusion, an FHA property must meet three general standards – Safety, Security and Soundness and it only has to meet the "As-Is" policy requirements.
Team Phone:  602.435.2149
Team Email:  Team@JeremyHouse.com