Most veterans pay an insurance premium called the VA Funding Fee (see exception below) as a part of their VA home loan.  This fee allows the VA to continue insuring VA home loans.
The Funding Fee charged depends upon several factors.  They included the veterans level of service, the type of transaction (purchase or refinance), how many times the veteran has used their VA mortgage benefits, the veteran's disability status with VA and the down payment the veteran makes on a purchase.
Funding Fee Rates
VA Funding Fee Rates – Purchase

VA Funding Fee Rates – Refinance

Important Funding Fee Exemption:
When the VA considers a Veteran disabled they are exempt from paying a funding fee.
Sample Funding Fee Calculation
The following example is based on a Veteran that is using their VA mortgage benefits for the first time to purchase a $200,000 home with 0% down.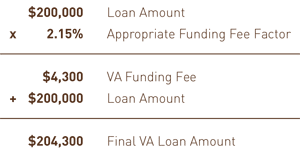 Arizona VA Loan Resources:
VA Mortgage Overview
Property Requirements VA
VA Loan Eligibility (COE)
Closing Cost Rules VA
VA Non Allowable Fees
Loan Limits VA
VA Streamline Refinance
Team Phone:  602.435.2149
Team Email:  Team@JeremyHouse.com
By Jeremy House
Google