Home Loan Pre-Qualification* is the first step in the home buying process. Obtaining a Pre-Qual is quick, painless and costs nothing. The HOUSE Team provides mortgage pre-qualifications you and seller's can count on without surprise or delays showing up later in the process.
Mortgage Pre-Qualification
Taking the step forward into getting pre-qualified for a home loan may seem like a lot. However, once you are familiar with how mortgage pre-qualification works you will see there is little to worry about. The HOUSE Team will guide you through each step. Also, here on the Pre-qualification section of our site you will learn about:
What is Mortgage Pre-qualification
What is Mortgage Pre-Qualification?
Home Loan Pre-Qualification is central to financing a new home. It is simple yet extremely important. During the process, the HOUSE Team confirms your home loan eligibility and provides you with different loan options.
Once pre-qualified, you will feel confident about getting a new mortgage mortgage when that perfect house comes along. As a result, you will shop for a home without concern and with a Pre-Qualification Form ("PQF") in hand.
In short, completing a Home Loan Pre-Qual let's you shop for a home. It tells sellers you are a serious and qualified buyer. Lastly, it helps you figure out what mortgage option is best for you before committing to a home purchase.
Benefits of Mortgage Pre-Qualification
Obtaining home loan pre-qualification comes at no cost to you. On the other hand, the benefits of doing so are extensive.
First, completing pre-qualification allows you to make legitimate offers on homes in the marketplace. Second, it allows you to explore all mortgage options we provide and find one best suited to you.
Make Legitimate Offers on Homes for Sale
The first goal of a mortgage pre-qualification is simple. Put yourself in a place to make legitimate offers that sellers will consider. In fact, getting pre-qualified and having a "Pre-Qualification Form" (or "PQF") makes your offer the next best thing to a cash buyer to sellers.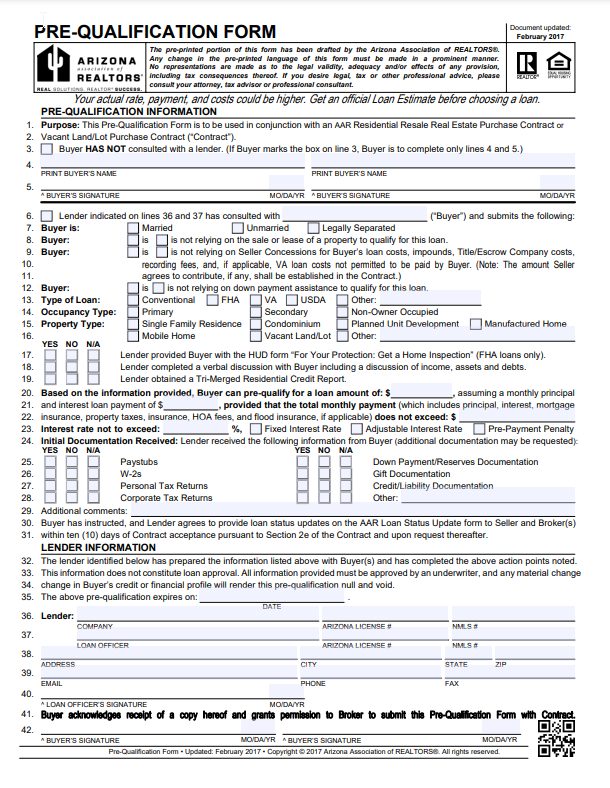 In Arizona a standard Pre-Qualification is used. The form (called "PQF" for short) shows sellers the level and extent of a buyer's pre-qualification with their mortgage lender.
Down Payment
The down payment you make on your home purchase is a major factor. Today's mortgage market offers a variety of down payment options. Whether 20% down to avoid mortgage insurance or 3% for cash preservation, finding your perfect down payment is important.
Monthly Mortgage Payment
In addition to down payment, finding the best monthly mortgage payment is helpful. During the pre-qual phase we help you match the right monthly payment with the right down payment and loan product. Many home-buyers are surprised how monthly mortgage payment options for the same purchase price can vary significantly based on overall loan strategy.
Best Mortgage Product
Another element addressed during the pre-qualification phase is home loan product. Finding the best mortgage product options available in today's evolving market is our primary focus. From examining brand new loan options to looking at existing options, we ensure you end up in the best product for your situation.
Overall Home Loan Strategy
Ultimately, our goal is to combine all of the above along with other relative factors (for example – mortgage insurance, loan term, rate buy-down etc…). The end result is a home loan strategy the serves you and your needs.
3 Steps to Get Pre-qualified for a Home Loan
Obtaining pre-qualification for a new home loan may not be as scary as many think. In fact, often the process takes as little as 24 hours. Here are the 3 steps that you take to get pre-qualified for a Conventional, FHA, USDA or JUMBO home loan. Learn more about VA loan pre-qualification here.
Step 1: Needs Analysis

During your Needs Analysis, the HOUSE Team learns about your wants, needs and goals. For example, desired monthly payment, down payment and future plans are all discussed during this step.


Step 2: Home Loan Application

Completing a home loan applicationopens PDF file is simple. In fact, it only takes about 10 minutes on the phone with or online.


Step 3: Supporting Documents

Next, you provide the HOUSE Team with basic documentation such as paystubs and bank statements. Learn more about documents lenders ask for.

How Long is a Pre-Qual Good For?
Once completed, your Loan Pre-Qualification is valid for 90 days. However, updated documents may be needed for buyers purchasing a home within the 90 day time-frame.
That is it! After finishing these 3 simple steps your Pre-Qual is complete. The HOUSE Team typically completes Home Loan Pre-Quals within 24 hours 7 days a week. As a result, you cab focus on the fun part – shopping for a your new home.
Team Phone: 602.435.2149
Team Email: Team@JeremyHouse.com
**A pre-qualification is not an approval of credit, and does not signify that underwriting requirements have been met
More Pre-Qualification Help
Required Pre-Qualification Documents
Why Get Pre-Qualified?
The Homebuying Process